"Solution day 2017" – The seminar introduces the latest application technology on CREO 4.0
Following the success of the "Solutions day 2016" event, on May 12, 2017, PTC in conjunction with the Vietnam Chamber of Commerce and Industry (VCCI), CADCAM Software CO., Ltd, and other sales partners in Vietnam held an event "Solutions day 2017" in Hanoi.
The session  attractted nearly  100  businesses and is rated as a professional, large scale event of one of the largest software companies about CAD/CAM/PDM  solutions.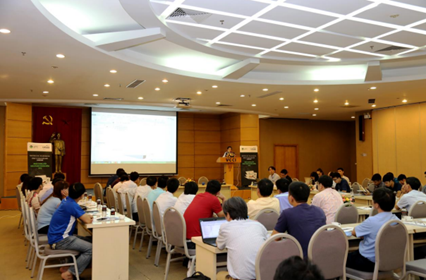 Photo at workshop
At the seminar, PTC's  international and national technical experts introduced and presented many advanced technology solutions of PTC such as:
• Software of PTC Creo 4.0 helps businesses speed up the design, product optimization;
• Product Data Management (PDM) solutions enable organizations to efficiently organize and manage product data, enhance reuse of design, manage access to product information, and control inventory. Control versions of designs and production processes;
• Product Lifecycle Management (PLM) solutions not only help companies manage product data (PDM) but also enable remote management of other important processes such as project management, Change management / improvement in product and configuration management. The system also enables the integration of other business systems software to enhance collaboration, teamwork, maximize resources, and improve business performance.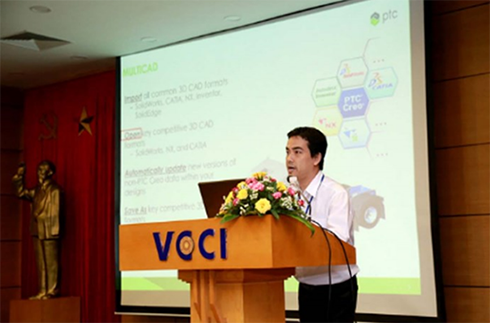 Mr Nguyen Thanh Binh, PTC' technical manager presents at the seminar
PTC Creo builds on the rich benefits from the firm's 30-year experience in CAD software development.Formerly known as Pro/E (Pro Engineer), Creo is a well-rounded CAD/CAM/CAE solution that packs a strong punch for the design industry in mechanical engineering and mold manufacturing.By sharing a common database from product design and engineering design to mold manufacturing, mold cavity design and 3-axis CNC manufacturing programming, PTC Creo makes it possible for operational processes to flow freely, as data are shared and updated regularly to form a closed circuit where businesses have full control over every step of the line.PTC Creo offers a quantum leap in design and manufacturing for businesses that want to save time, cut costs and achieve higher efficiency, and is the best choice out there for any company.
CADCAM Software CO., Ltd, we hope that the solutions for design, management, sharing of data and resources presented in the program are the advanced and effective solutions for the manufacturing and auxiliary industries. Support in Vietnam shorten the product development time, better product data management, maximize the resources of enterprises, help businesses develop and enhance competitive advantage in the market.
CADCAM Software CO., Ltd is currently the first PTC's gold partner in Vietnam. We are committed to providing Creo 4.0 software at the best price, the fastest and the most professional technical support.