Best PTC Creo reseller in Vietnam – First Gold Partner CAMCAM Software
Your business is looking for a prestige authorized reseller of PTC in Vietnam. But do not know which address to choose for the best prices and the best after sales policy, as well as the best technical support.
Come to CADCAM Software Co., Ltd – The leading distributor of CAD/CAM solutions, the first and only Gold Partner of PTC in Vietnam
See this page as Vietnamese version HERE
The first and only Gold Reseller of PTC in Vietnam
Being a partner of PTC since 2013, CADCAM S/W has made continuous strides in bringing PTC's world-leading technology solutions to domestic and foreign enterprises to create quality products. quality by providing solutions that optimize the processes of design, machining, simulation, management and product development.
Thanks to those great achievements and the preferential policies to support the best prices and technical services … to the customers. CADCAM SOFTWARE CO., LTD has become the first and only GOLD RESELLER of PTC in Vietnam (since 2016). Having this position, CADCAM Software will receive special incentives on price, as well as support and quick updates directly from PTC. With technical staffs having more than 10 years of experience in the industry, customers can be assured of trust in CADCAM Software when there is a need for consulting, buying and training on PTC products.
CADCAM Software's Certificate of Gold Reseller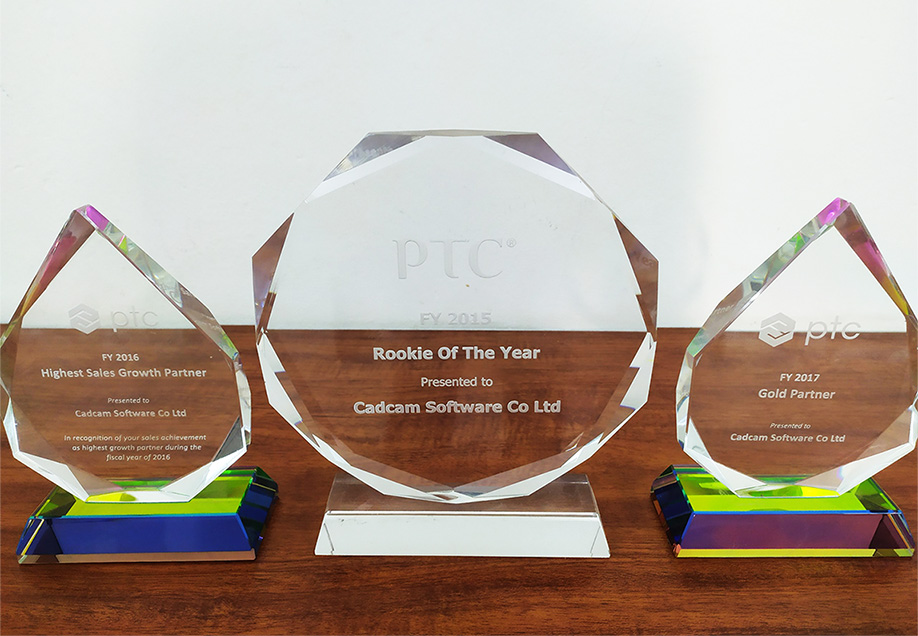 Some important awards of CADCAM Software Co., Ltd
Preferential policies when you buy copyright software at CADCAM Software Co., Ltd:
Advice on modules suitable to the needs of each enterprise for FREE, thereby avoiding redundancy, lack of features, helping customers to save costs and maximize the features of the software

To be offered the best price in Vietnam

Consulting on designing mechanical systems, jigs, jigs, machining programming issues for FREE

Install copyrighted software, certify copyrighted software

Free training support for 1-3 days depending on needs after delivery

Technical support via phone, teamview when having trouble FREE

FREE update training (when updating to new software versions)

FREE Email Technical Support

Improvements / Upgrades, and patches in the software for FREE

Support emergency License when a system error occurs

Install the software for free.

On-site technical support within 24 hours (if necessary)

Other on-demand installation and support services

Special discounts on purchases, requiring advanced training or other services to improve job performance
Your business is in need of a license and needs advice on our solutions (PTC Creo | PTC Windchill | PTC MathCAD | MasterCAM | NCBrain | Cimco). Please contact:
CADCAM SOFTWARE CO., LTD
Hanoi Office: 25, Lane 34, Giap Nhat Street, P. Nhan Chinh, Q, Thanh Xuan, TP. Hanoi
Ho Chi Minh Office: Level 6 & 7 Regus Center, Me Linh Point Building. 2 Ngo Duc Ke, Ben Nghe, District 1, Ho Chi Minh
Telephone: +84 24 6673 7986
Hotline: +84967 098 789 
Email: info@cadcamsoftware.vn
Website: https://cadcamsoftware.vn/
Contact us for advice, demo and quotation (response within 24 hours):