You Deserve More
We are pleased to announce the five new Creo Design Packages, redefining what your 3D CAD software should include.
Creo Design Essentials, our entry-level package, is resetting the bar with more capabilities in every seat. Subscribe today to get all of these new benefits, right out-of-the-box.
Welcome to the new industry standard.
The New Standard in 3D CAD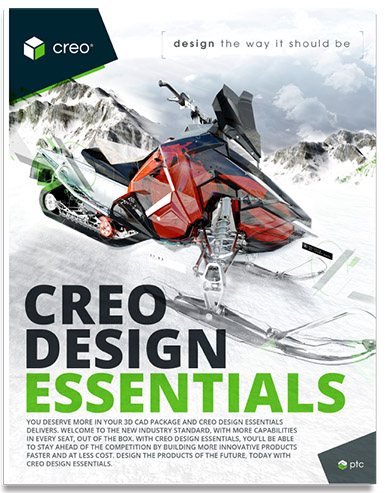 Work With Anybody
Seamless Multi-CAD collaboration with SOLIDWORKS and Autodesk Inventor powered by Creo Unite Technology
Revolutionize design reviews with easy-to-use augmented reality capabilities.
Improve Product Quality
• Optimize and automate the design of routed systems with Creo Piping and Cabling
• Validate and optimize products for human interaction with Human Factors Design
• Integrate your key engineering calculations with PTC Mathcad Express
• Simulation & Analysis for parts and assemblies
Creo Piping and Cabling
 Learn how to take advantage of a special offer to upgrade.
There's even more when you subscribe to Creo — keep reading!
Bolster Productivity
• Streamline your concept design with Design Exploration using easily navigable checkpoints
• Greater convenience with home use licenses and 180-day extended license borrowing
• Keep your computer and Creo software working together with Creo Performance Advisor
Even More Productivity
• Creo's Intelligent Fastener capabilities allow you to automate the creation of fasteners and hardware assemblies
• Automate your structural framework design with Advanced Framework
• Flexible Modeling capabilities allow you to directly create and edit geometry regardless of design intent
• Painlessly move 2D data to 3D with Legacy Data Migration
Intelligent Fastener
Bring Products To Market Faster
• Visually communicate your stunning products for design reviews, marketing collateral, packaging, and more with photorealistic rendering with Creo Render Studio, powered by Luxion's Keyshot.
Need even more power?
Creo Design Essentials is the new standard in what you are entitled to in a 3D CAD software bundle, with the definitive combination of affordability, flexibility, and power.
In the event that you need even more than that, there are additional Creo Design Packages that you can take advantage of.
A Special Offer to turn your Imagination into Reality
Own a perpetual license of Creo?
We are extending a special, limited-time discount allowing you to upgrade your existing, perpetual Creo packages into the new industry standard in 3D CAD.¹
Already a Creo subscriber?
You made a great investment. You may qualify for a free upgrade to the comparable Creo Design Package.¹ That's our shared commitment to your success.
New to Creo?
With the introduction of the Creo Design Packages, there has never been a better time to join the community of Creo users. Contact us for more information.
Need additional perpetual licenses?
If you're not ready for subscription, you have until December 31, 2018 to buy perpetual licenses of the previous Creo packages.¹
Contact us to enter the new standard in 3D CAD.
Company Name
Address Line #1
Address Line #2
City, State, Post Code
Country
Phone # 123 456 789
Fax # 123 456 789
Mobile # 123 456 789
Partner Contact Name
Company Email (email@partnerdomain.tld
Company Url (http://www.partnerdomain.tld)
Additional Contact Info
Additional Details
Terms & Conditions
¹: Offer is available exclusively through participating PTC resellers only. Offer valid worldwide for all companies with a qualifying PTC Creo or Pro/ENGINEER products.
This offer is not valid for educational or academic licenses. Offer begins October 2, 2018 and expires December 28, 2018 at 11:59PM EST. This offer cannot be combined with any other discount or offer.
PTC reserves the right to cancel, suspend, or modify part of or an entire promotion at any time without notice, for any reason in its sole discretion. Prices for PTC Software are subject to change and may vary per country.
Offer(s) subject to reseller participation. PTC resellers are independent and free to set their own prices and may participate in promotions at their discretion. Reseller prices may vary.
Other restrictions may apply. Contact PTC or your local participating PTC reseller for further details.